Table of Contents
Virtual Beach
Virtually, a beach; practically, a challenge.
Description
Life is a beach, or at least it would be if it wasn't also a pile of crap. Beaches represent the best of times - resting, walking, bathing; and the sights and sounds therein invoke all things positive and affirming. Join us as we roll up our overly-worn jeans and attempt to recreate that joyful place without the hassle of getting sand in your ebook or sewage on your oh-so-pale feet.
Like any beach, all you need is a towel - the most massively useful thing an interstellar hitchhiker can have - to sit on. Lastly, bring tea leaves if you have them - smokey beach-bonfire flavoured tea will be provided :)
Details
The minimum approx area needed for the basic setup is 3m x 3m (inc a 0.5m clearance perimeter). A corner position is preferred. Power is required for 1x 50watt and 4x 20watt RGB LED spotlights, in addition to a 65watt LED projector and a small freestanding fan. Misc sundries include a networked Pi running info-beamer and the odd 5v LED strips.
The area will be covered by a soft beige fleece floor material, weighted at points. Beach inflatables and accessories will populate the ground space as sitting pillows intended as restful beach-style lounging for consulate members and all visitors. Note: it is not intended to replace consulate table and chair seating, only to provide respite from it for anyone to enjoy with laptop.
Two of the four open sides to the area will be draped with semi opaque garden-fleece material to be used as a projection surface for the LED Projector and controlled LED RGB Spots. Projected beach scenes, colours, sounds and fanned beach scents will be emitted from a central freestanding 2m weighted column housing the lighting hardware and supporting the high-corner of the drape material.
If additional space exists surrounding the edges, towels/inflatables can be added to the floor area for additional lounge space.
A fake mini-firepit with moving flame material and animated fire effects will be added. This will house the mini-projector and PI, to project onto the facing side-sheet of a portable hammock.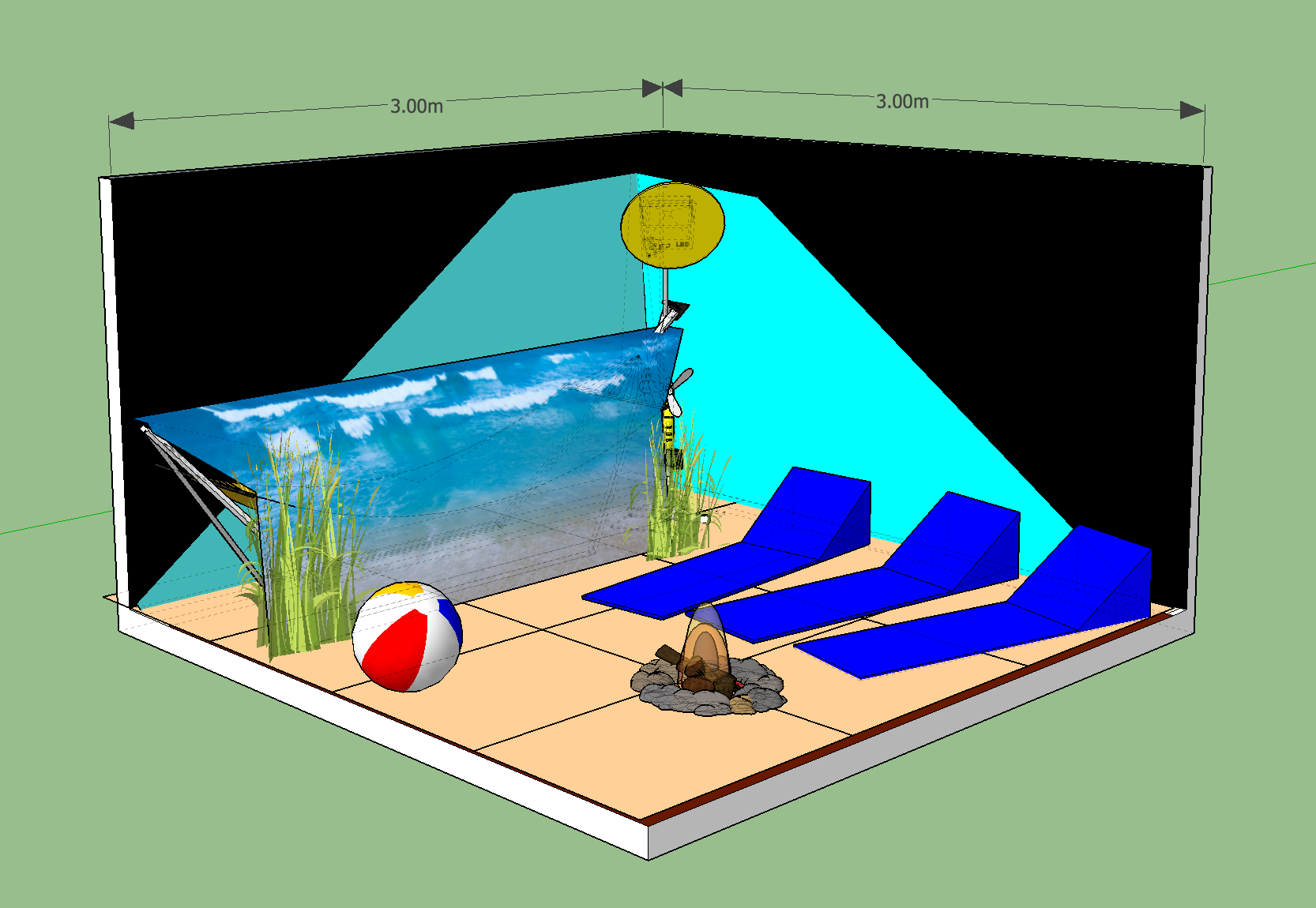 Prototype Layout v4
The freestanding 2m column that houses the lighting hardware will be constructed from either:
a 4-sided tall pyramid arrangement of tent poles, with structurally-reinforcing shelves along it's vertical length and weights at its enlarged footprint base.

A freestanding fan stand with additional base stabilisation
There are plans to control the kit via MQTT (ideally) to simulate different beach conditions. The projected ocean tides, along with other AV media will be displayed via infobeamer and controlled via MQTT commands. The LED floods *may* also be 3-channel MQTT controllable via added NodeMCUs (in development), otherwise controlled via emulated IR else IR remote.
33c3/virtual_beach.txt · Last modified: 2018/07/06 09:53 by 127.0.0.1
---